Filinvest Activa recognized as the Best Mixed-use Development by Dot Property
31 October, 2019
---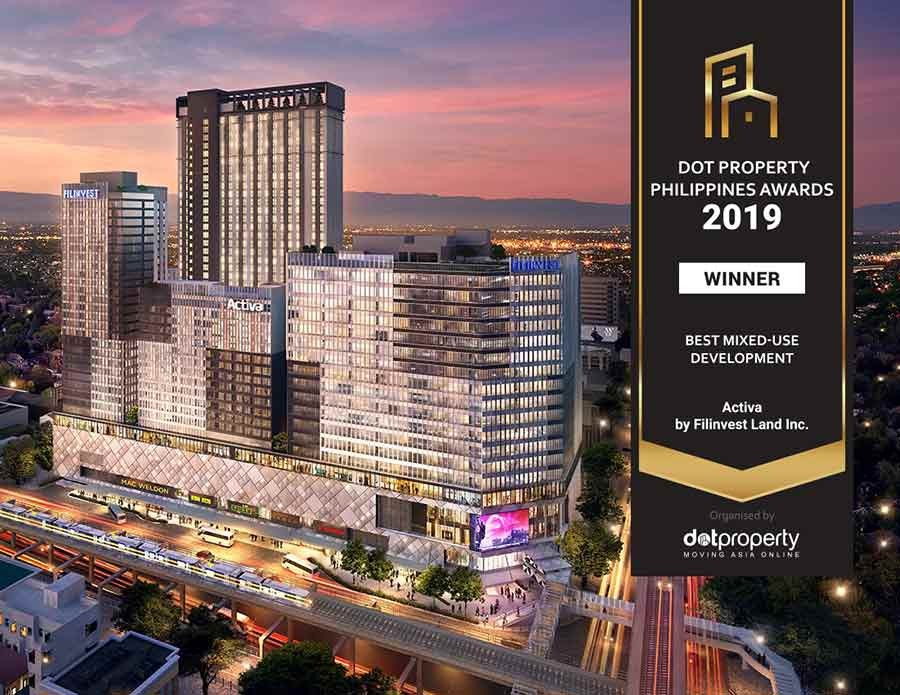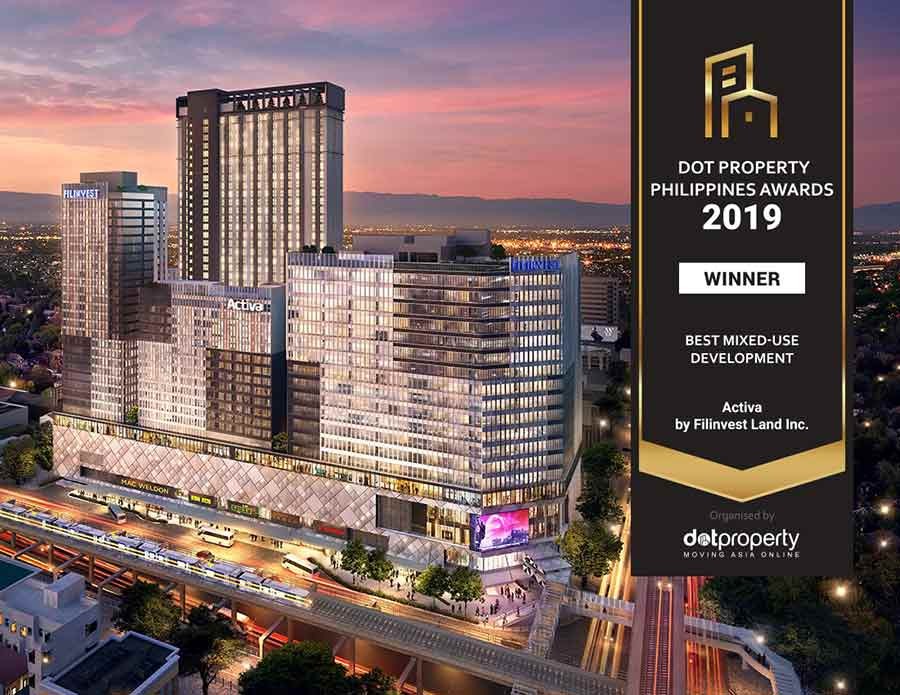 Filinvest, one of the country's largest property developers celebrates another milestone as one of its newest projects, Activa, a 1.3-hectare mixed-use district in Cubao that offers a holistic live-work-play lifestyle was hailed as the Best Mixed-Use Development for 2019.
The highly-coveted recognition was given by Dot Property, a digital media company that drives a network of nine property portal websites and offline media throughout Asia to honor the absolute best projects, developers and companies that contribute to real estate.
"We are proud to receive this award and we thank Dot Property for this recognition. We take inspiration from citations like this to build more projects that offer variety to investors. This award is an affirmation of Filinvest's commitment to build the Filipino dream by providing a development with a wide variety of components, complemented by a slew of well-appointed amenities," said Janette Cordero, Filinvest First Vice President for Mixed-Use projects.
Activa's mixed-use concept recognizes the need for everything to be within reach in this age of rapid advancement by putting together the key components where one can thrive — the convenience of condo living, the flexibility of being in a modern workplace set in an ideal location, and the metro's vigor in its entertainment and leisure components.
Envisioned to revitalize Cubao, one of the oldest business districts in the country, Activa is situated at the corner of EDSA and Aurora Blvd in Cubao, Quezon City. The project is seen to contribute a new face to the continually-changing atmosphere of Cubao.
"To ensure that this vision is realized, FLI has tapped internationally-renowned consultants such as Broadway Malyan for master-planning and architecture, and Arup for the structural consultancy. With these firms' expertise, we are confident to deliver a project that will help invigorate the Cubao area and let it be seen anew as a major takeoff point for other business districts in the metro," Cordero said.
MIXED-USE COMPLEX
Worthy of Dot Property's recognition, Activa embodies progress, play, and productivity as it features well-rounded business, residential and entertainment options.
Activa Flex, the development's 24-storey traditional office building is comprised of 40 Compound Office units, 112± Regular Office units and 168± versatile SoHo units. With unit size ranging from 20 sqm± to 24 sqm±, Activa Flex provides the much-needed space for flexibility and functionality.
Ideal for start-ups to medium-sized firms, Activa Flex's units with small office home office spaces (SOHO) grant forward-looking entrepreneurs the flexibility and convenience of living and working in one place, all within a master-planned cityscape.
Each unit is equipped with fiber optic cable and telecommunications backbone for speedy connectivity. It also features 6 high-speed elevators, providing efficiency and convenience to its occupants. Its versatility is seen to create a more comfortable and productive environment by integrating technology, systems and structure.
Activa Office Tower is another key component in this development. It has 14-storeys of typical office floors ideal for BPOs and knowledge-based companies. Similar to Activa Flex, this office tower is also equipped with fiber optic cable and telecommunications backbone for high speed connectivity. It also boasts of acquiring a Gold LEED pre-certification, a rating system that aims to accelerate the development and implementation of "green" building practices. The office tower will likewise feature N+1 emergency back-up power and a rooftop garden that will offer a splendid view of the city's skyline.
Other components of this mixed-use concept are the hotel, mall and residential condo—Activa Hotel will feature 11 premium floors with 200± well-appointed rooms, all-day dining, function rooms and rooftop amenities such as an infinity pool, sunset bar, fitness center, and a themed café.
Activa Mall, on the other hand, is a 5-level shopping and leisure complex with a retail podium, specialty retail establishments, alfresco area, food hall, cinema, supermarket, wellness hubs, fashion boutiques and digital establishments.
This year, Activa Flats, a 32-storey premium residential tower that provides efficient and functional living spaces suited for young professionals, newly married couples, and start-up families, even for those looking for a sound and productive investment is set for its grand launch. This building will also feature 4 high-speed elevators, infinity pool, sky terrace with barbeque deck and a fitness gym.
"We are very excited to launch Activa. We invite you to get to know more about this project, which is now on its construction stage. Buyers can enjoy investment growth even prior to project completion. Filinvest foresees an upsurge in Activa's investment value when new infrastructures and businesses are in place a few years from now," added Cordero.
Activa expands Filinvest's footprint in developing vertical mixed-use projects such as 100 West in Makati and Studio 7 in Quezon City bearing the company's brand of quality and excellence found in all of its real estate developments.
Know more about Activa and other Filinvest projects by calling 632 8850-0888 and 0917 545-7788.